By Andrea Clouser
October 2011

Cancer vaccines are the next step in our continued fight against cancer. Along with the standard of care treatments of surgery, chemotherapy and radiation cancer vaccines as a fourth arm may prove very valuable in waging this fight. In the last decade with the human genome project completed it has given scientists new and more definitive targets to begin to unravel the complex puzzle of cancer therapeutics. This innovative therapy will help to begin to breakdown the genetic, molecular cellular and immunologic mechanism that allows tumors to persist.

Improvement in our understanding of tumor immunology has facilitated progress in the development of cancer vaccines. Many of the vaccines employ immunotherapy" .

Immunotherapy (dendritic cell vaccines) DC are immature immune cells found in the body, they are highly mobile and carry antigens, their role is to identify foreign material in the body, bacteria, virus, tumor cell, which can activate specific white blood cells (killer T cells) and can be targeted to teach the immune system to recognize foreign material like brain cancer cells and attack and kill them. Results have shown considerable extended survival for patients with GBM employing these vaccines.

The chief aim of cancer immunotherapy is to enhance the immune response against specific tumor targets. Tumors are amenable for immune recognition, as they present specific tumor antigens that are recognized by immune cells. Most of the current clinical trials for brain tumor vaccines (43 of which 18) are currently recruiting) consist of boosting the patient's immune system to fight off the tumors. Either by using the patients own tumor cells or more generic glioma associated antigens that many brain tumors express, which can be used for unresectable tumors where no tumor sample is available.

The tumor specific vaccines use a tumor specimen which is sent to the lab to identify specific tumor antigens (proteins) on the surface of the cells. Specific tumor antigens are combined with the patients own dendritic cells to form the personal vaccine These antigens stimulate the immune response activating the killer T cells to kill the tumor. Findings from a phase one clinical trial of the personalized cancer vaccine, DC Vax®-Brain show that patients are surviving more than twice as long as the standard approved treatments currently available for GBM. (UCLA School of Medicine has on going trial not presently recruiting NCT-00068510 although the same vaccine trial is currently recruiting through Northwest Therapeutics NCT-00045968)

The Synthetic peptide based vaccines are derived from specific glioma associated antigens and then joined with dendritic cells to stimulate "T" cell activity, and have been shown to kill tumor cells. The advantage of this type of vaccine is that it is not patient specific and therefore can be used by a larger number of patient tumor types. More importantly it can be given to patients whose tumors are not respectable i.e. Children and adults with BSG or DIPG tumors which have shown to be so resistant and frustrating to researchers for so long. A vaccine trial is underway presently for adults with low grade unresectable tumors and children with DIPG. (UPMC medical center NCT-00795457 and NCT- 01130077)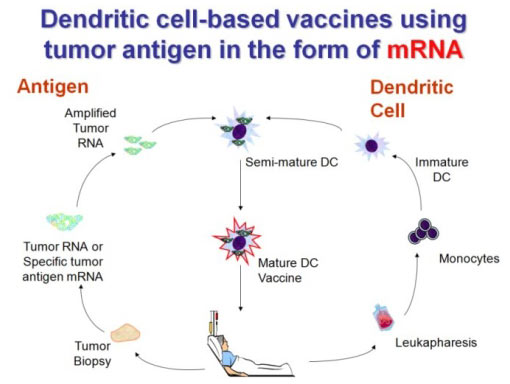 Heat Shock Protein Vaccines Heat shock proteins are made in the body when cells are exposed to heat or other stressors. Vaccines made from a person's tumor cells, may help the body build an effective immune response to kill tumor cells. (UCSF, currently recruiting, two trials including NCT-00905060 and NCT-00293423)

Monoclonal Antibodies- A type of passive immunity, monoclonal antibodies are synthetic components created to replace the action of ones own immune system in order to attack the tumor. These drugs that always end in (mab) may work to block tumor growth in different ways. They may destroy tumor cells directly, prevent growth by blocking specific cell receptors, or bind to target cells on the tumor which may then stimulate the persons own immune system to attack those cells. (Duke University, Active trial not recruiting NCT-00626015)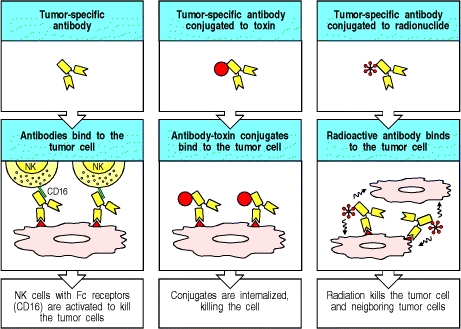 Viral Therapy Vaccines- Using a derivative or attenuated virus (such as the measles virus) genetically engineered to produce a human antigen (oncolytic virus) to assess its humoral (full body) and cellular immune response in fighting tumor cells. Oncolytic viruses are armed with immunostimulatory molecules used to kill tumor cells through lysis (breaking them apart). (NCI Mayo Clinic Actively recruiting NCT- 00390299)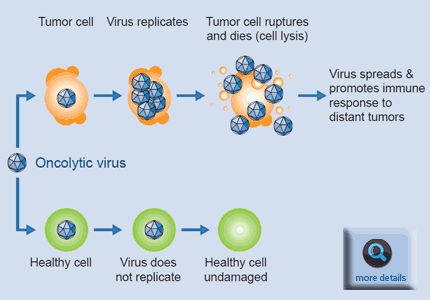 Hopefully what the near future will bring-

As we begin the 21st century there are still no therapeutic cancer vaccines licensed for use in the US.

In the past decade, advances in immunology and molecular biology have led to the identification of specific tumor antigens (proteins).Therefore current and future treatments can begin to be highly specific and effective based on the ability to develop personalized tumor specific antigen directed vaccines. Since the completion of the human genome project, new technologies are quickly identifying antigens that produce the best immune responses. These are being incorporated into each new vaccine trial that becomes available.

Phase I trials of vaccines are normally given to incurable or untreatable malignancies. Since immune responses are often impaired in patients with advanced disease and advanced cancer does not normally evoke an intense innate immune response, immunotherapy is most beneficial used in either early stage cancer or in stages of minimal residual disease. Therefore, efficacy questions may be better answered and may require studying patients with less advanced disease. Presently, patients with low grade tumors have few options for therapeutic vaccines. Hopefully this research will open up the field of vaccines to these patients. It is believed that the earlier the treatment is given the more effective it will be. There is reason to believe that therapeutic vaccines would require continued boosting or even retargeting of antigens as part of a maintenance regimen for patients with responses or stable disease.

It is very important to understand all the medical and clinical trial options available when you are diagnosed and before you seek treatment in order to remain eligible for all the possible vaccine trials offered.


Immune adjuvants such as POLY ICLC, Sagramostim, Imiquimod, and Montanide are used in conjunction with immunotherapy vaccines to help further stimulate and enhance the activated dendritic cells to fight the tumor.
Summary of brain tumor vaccines
IF you see one that is missing, closed or incorrect - please let us know!
This section is under construction and not yet complete. For a complete list, Click HERE
Details
Name
Trial Name
Target
Newly
Diagnosed
Recurrent
GBM
Other
High Grade
Low Grade
Brain Stem
Phase1
Phase2
Phase3
FDA Approved
Details
ACT IV
Phase III Study of Rindopepimut/GM-CSF in Patients With Newly Diagnosed Glioblastoma
EGFRvIII protein
Y
N
Y
Y
N
N
N
N
Y
N
Details
Autologous Dendritic Cells Pulsed With Autologous Apoptotic Tumor Cells
A Phase I Study of Autologous Dendritic Cells Pulsed With Autologous Apoptotic Tumor Cells (DC/AAT) Administered Intradermally to Cancer Patients With Brain Tumors
autologous apoptotic tumor (AAT) specimens, influenza virus ("FluMist")
Y
Y
Y
Y
N
N
Y
N
N
N
Details
CDX-110 (EGFRv111) peptide vaccine
Phase I Rindopepimut after radiation in childfren with Diffuse Intrinsic Pontine Glioma (DIPG)
Research study of pediatric patients with DIPG.The study will test the safety and efficacy of treating these patients with EGFRv111 peptide vaccines(CDX-110) after conventional radiation. -children eligible ages 3yrs-18yrs.old -no tissue needed -6 weeks radiation
Y
N
N
Y
Y
Y
Y
N
N
N
Details
CDX-110 vaccine in patients with relapsed EGFRv111+ Glioblastoma
A study of Rindopepimut (CDX-110) /GM-CSF in patients with relapsed EGFRv111+ Glioblastoma
This study will evaluate the antitumor activity of CDX-110 in adult patients with relapsed glioblastoma as measured by the progression free survival rate at six months post day-1. The drugs KLH and Bevacizumab will be given in addition to CDX-110 during the study -patients must be >= 18 yrs. old -GBM grade 4 relapse
N
Y
Y
N
N
N
N
Y
N
N
Details
DC Vaccine
Autologous dendritic cell vaccines pulsed with tumor cell lysate antigen
pulsed DC cells and adjuvant either imiquimod or Poly ICLC to attack tumor cells -must have resection at UCLA -must be >18 yrs. old
Y
Y
Y
Y
N
N
N
Y
N
N
Details
DCVax-L
Dendritic Cell Immunotherapy-autologous dc pulsed with tumor lysate antigen
Biological- DC Immunotherapy pulsed with tumor lysate antigen to compare PFS between patients treated with DCVax-L and control patients Must be >18 yrs. old Must have surgical resection and tumor lysate material(more than biopsy) No steriods
Y
N
Y
N
N
N
N
Y
N
N
Details
Effects of Vaccinations With HLA-A2-Restricted Glioma Antigen-Peptides in Combination With Poly-ICLC for Adults With High-Risk WHO Grade II Astrocytomas and Oligo-Astrocytomas
Biological: GAA/TT-peptide vaccine and poly-ICLC
This is a pilot vaccine study in adults with either WHO grade II astrocytoma, oligoastrocytoma or oligodendroglioma. The purpose of this study is test the safety and efficacy of an experimental tumor vaccine made from peptides and Montanide ISA-51 in combination with the study drug Poly-ICLC.
Y
Y
N
N
Y
N
Y
N
N
N
Details
GBM Multipeptide Vaccine IMA950
A Cancer Research UK Phase I Trial of IMA950 (A Novel Multi-Peptide Vaccine) Plus GM-CSF in Patients With Newly Diagnosed Glioblastoma
The study is a trial of IMA 950 (novel multipeptide vaccine)plus the adjuvant GM-CSF (sagramostim). -participants must be >= 18 yrs. old -tumor must be resectable (no brainstem)
Y
N
Y
N
N
N
Y
N
N
N
Details
GBM-Vax
Dendritic cell vaccine for high grade glioma
Randomized two arm controlled study Tumor lysate charged dendritic cell vaccine for high grade glioma -must be > 3yrs. old -GBM grade 4 confirmed -at least 70% resection
Y
N
Y
N
N
N
N
Y
N
N
Details
HLA-A2 restricted synthetic glioma antigen peptides vaccine
Pilot study of Glioma Associated Antigen Vaccines in conjunction with Poly ICLC in Pediatric Gliomas
The objective of the study is to collect immunological and safety data following administration of vaccinatons. -participants must be 19 months to 20 yrs. old -HLA-A2+
Y
Y
N
Y
Y
Y
Y
N
N
N
Details
HSPPC-96 Vaccine (Heatshock)
PHASE 2, Multi-center, Single Arm Investigation of HSPPC-96 Vaccine With Temozolomide in Patients With Newly Diagnosed Glioblastoma Multiforme
-contact Andrew Parsa at UCSF -participants must be >= 18 yrs. old -must have 90% resection
Y
N
Y
N
N
N
N
Y
N
N
Details
ICT-107
ICT-107
Synthetic peptides that correspond to immunogenic epitopes of multiple tumor antigens
Y
N
Y
N
N
N
N
Y
N
N
Details
Imiquimod/Brain Tumor Initiating Cell (BTIC) Vaccine in Brain Glioma
Imiquimod/BTIC Lysate-Based Vaccine Immunotherapy for Diffuse Intrinsic Pontine Glioma in Children and Young Adults
GBM-6, Brain Tumor Initiating Cell
Y
N
N
N
N
Y
Y
N
N
N
Details
Study of Peptide Vaccinations with tumor associated antigens mixed with Montanide in patients with CNS tumors
Study of vaccinations with tumor associated antignes mixed with montanide(ISA-51VG) in patients with pediatric recurrent or refractory braintumors
The study will evaluate the safety and cellular immune response to the vaccine in pediatric brain tumor patients. -children are eligible up to age 21 -recurrent disease only -participants must be HLA-A2+ -KPS>50
N
Y
N
Y
N
N
Y
N
N
N
Details
TVI-Brain-1
Study To Test the Safety and Efficacy of TVI-Brain-1 As APhase 2 Study To Test The Safety and Efficacy of TVI-Brain-1 As A Treatment For Recurrent Grade IV Glioma
Biological: Cancer vaccine plus immune adjuvant, plus activated white blood cells
Y
Y
Y
Y
N
N
N
Y
N
N
Details
Vaccine Immunotherapy for recurrent Medulloblastoma and (PNET) ( TTRNA-Alt with TTRNA-DC's)
Recurrent MB/PNET Adoptive T cell therapy during recovery from myeloablative chemotherapyand hematopoietic stem cell transplantation
Biological Immunotherapy targeting tumor specific antigens expressed in brain tumors Patients will receive DC vaccines to boost the function of tumor specific immune cells and evaluate their impact on tumor growth. -children eligible up to < 30 yrs. old
N
Y
N
Y
N
N
Y
Y
N
N
Details
Vaccine Therapy in treating patients undergoing surgery for recurrent GBM
Recurrent GBM stem cell tumor amplified RNA immunotherapy trial
patients receive autologous BTSC m-RNA loaded DC vaccines to help the body build an effective immune response to kill tumor cells -must be >18 yrs. old -must have previous tumor resection -only recurrent GBM
N
Y
Y
N
N
N
Y
N
N
N
Details
Viral Therapy in treating patients with recurrent GBM
Phase I trial of measles virus derivative producing CEA (MV-CEA) in patients with GBM
The study will asses side effects and best dose as well as humoral and cellular immune response to the injected virus in participating patients. -patient must be 18yrs. or older
N
Y
Y
N
N
N
Y
N
N
N
---