Update 2/21/18 - Unfortunately, Rawdon passed away.
Brain Tumor Survivor: Rawdon A.
Last Updated: 6/19/16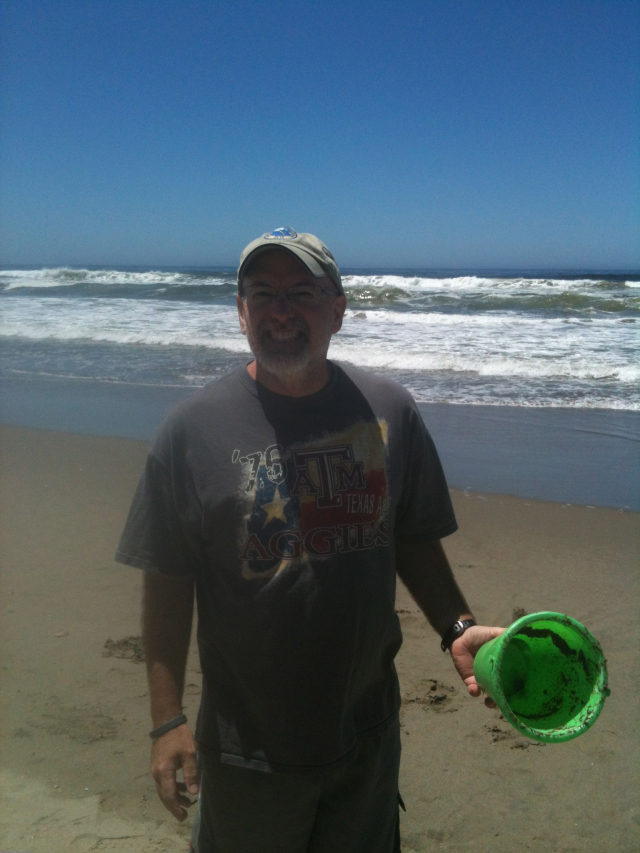 Hi, I am Jan, Rawdon's wife, and this is his amazing story.

In February of 1994, Rawd experienced a grand mal seizure at work. An MRI revealed some sort of "mass" in his head. He waited 6 weeks and the mass did not shrink and may have even increased in size so the Dr. recommended surgery. In April of 1994, Rawd had an oligo II the size of lemon removed from his left frontal lobe. He recovered quickly from surgery and endured 6 weeks of radiation therapy. Amazingly, he experienced no deficits from the radiation therapy. He was very, very tired and sluggish. But, Rawd worked as a financial forecaster while he went through the radiation treatments.

We had six great years before the tumor grew back. Rawd was going for annual MRIs when a spot appeared in May of 2000. Rawd had another surgery that resulted in the same pathology of oligo II. Yeah! Following the surgery, Rawd did a year of PCV chemo.. He tolerated the chemo well and continued to work as a youth pastor during this time.

We lived another three deficit free years before another spot appeared on an MRI. Time for surgery number three in November 2003. The pathology was still oligo II. Yeah, again! Rawd chose to take part in a clinical trial for a brachytherapy delivery method called glia-site. This involved having a balloon shaped catheter placed in the cavity where his tumor had been. Rawd stayed in the hospital for five days while a radioactive isotope was injected into, and left inside, the balloon reservoir of the catheter. The theory behind this treatment is to radiate any cancer cells that remained in the lining of the tumor bed. Again, he tolerated this treatment well and came home without any deficits.

However, in April of 2004, Rawd experienced some severe brain tissue death. The doctors think it was from adding more radiation to cells that had been previously damaged by external radiation done in 1994. That was a very rough year. Rawd went through occupational therapy to relearn how to use the right side of his body. He also went through speech therapy. On the bright side, he had recovered enough by October 2004 to cut our newborn son's umbilical cord! :-)

As of July 2012, Rawd remains tumor free. WHOOP! He continues to heal from his brain injury. He ran and walked half marathons in 2009 and 2010. He is training for the Tough Mudder in 2013. He volunteers at the science center and at church. And, he helps a ton with our two school age kids.

Rawd lives an extraordinary life that is full of courage, peace and laughter. I wish each of you the same peace and joy in living with the challenges that brain tumors bring.
Update 4/21/2013

Rawdon had another clear MRI in November, 2012. He continues to workout, volunteer and have silly tickle fights with our kids. His seizures remain controlled with meds. I am so grateful that I have no "news" to report.

For those of you working through re-occurrences, I wish you courage and hope.
Update 1/25/2014

Rawdon's 6-month MRI's remain stable. He completed the Tough Mudder this spring. For those of you that have not heard of it, the Tough Mudder is a 12-mile obstacle course that includes a lot of MUD! It was both challenging and awesome.

This November will mark the 10-year anniversary since Rawd's last resection and brachytherapy. In some ways it seems like the surgery was just last year. In other ways, it seems like another life. Either way, both stages seem surreal. Has Rawd really survived three brain surgeries, chemo and radiation? Yes. Have we really been able to live ten years without dealing with the all the surgeries, chemo and radiation? Yes! We've been able to focus on raising our kids, volunteering and working. The monotony has actually been quite glorious! I am so grateful to have had time... lovely time. My hope and prayer is that each of you is given the gift of time, rest, hope and peace.
Update 3/2/2014

As mentioned above, November 2013 marked the 10-year anniversary since Rawd's last resection and brachytherapy. It also marked the beginning of watching a new "spot". It's small and not growing very fast. So, it could be be regrowth or scar tissue at this point. Fortunately, Rawd does not have any symptoms from this area of change. He is on the watch and wait protocol with MRI's every two months now. Grace and peace to each of you.
Update 10/26/2014

The spot that we were watching on the MRI turned out to be tumor regrowth. Rawdon had surgery at Barrows in April to remove the "spot." The surgery went well. So well, that he had friends bring him wings in the hospital within a few days of surgery! The pathology did not go so well. Rawd now has a GBM. He has no deficits from the surgery and completed 6 weeks of IMRT and TMZ in July.

Rawd is now on round 2 of the 5 days on/23 days off maintenance dose of TMZ. He remains positive and is doing very well considering all the treatment this year. He is VERY tired and sleeps around 14 hours a day. Rawd still loves seeing his friends, church, movies and eating out.

Our lives are oddly "normal." The kids are in school and 8 and 10 now. I am back working and considering applying for a temporary full time job. It is truly hard to mentally grasp that Rawd's tumor has gone from a grade 2 to a grade 4. I know our lives have fundamentally shifted… that Rawd will be on chemo indefinitely. We travel less and are staying close to home. We watch a lot more TV and movies. Rawd is very happy to be eating more red meat to keep his red blood cell count up. We are a little sad and scared but more hopeful and at peace.
Update 2/1/2015

Rawd just completed round six of chemo so he is midway through the treatment protocol. I am late getting this post in. Partly because work and the holidays were nutty. Partly because Rawd continues to decline and I hate to write that. I'll start off with the good news. Rawd had an MRI yesterday which showed no change. That means no necrosis, no swelling and no tumor re-growth. That's beyond great news! We feel very, very blessed. Yet…

Among other issues, Rawd now has significant right side numbness and is using a cane. Since the MRI showed no change, there is nothing to treat. Who knows what is causing the decline… chemo? radiation? He pretty much has to live with it. However, he will start physical therapy soon to help maintain and re-gain strength on his right side. Beyond that, we do our best to live with gentleness, patience, faith, hope and love. I don't know what to say… it's hard to watch. The tears flow a little more easily with each passing month. But there is still laughter and joy in our home. Our holidays were spent here with Rawd's mom joining us. We had a wonderful time including the most epic nerf gun battle, baking cookies and a Texas feast for Christmas.

The kids are adapting incredibly well. They initially had some questions about death and illness but those have dropped off. Rawd falls occasionally and they deal with it. I wish I could tell you this is an easy journey. Parts of it have been easy. Most has been challenging. Brain cancer has made what's important in life dramatically obvious. We are broken, yet better for having this in our lives. May your 2015 overflow with tender, sweet moments.
Update 10/18/2015

Ahhh, the journey continues to grow more challenging. Rawd is no longer under treatment. His MRIs remain "stable." Yet, his right side numbness and paralysis continue to increase. He is now in a power wheelchair with an occasional use of his walker. We are hanging there. Most days are good. Every now and then a bad day rears its ugly head and beats us up. Overall, our 2015 has been good. May god grant you grace, peace, and laughter this winter.
Update 6/19/16

Well, here we are six months later. Rawdon took a break from all doctor appointments, MRIs, and therapy for the past six months. It was glorious just to live life without all the medical stuff. However, it was also a little disconcerting. Rawd has continued to decline and we had no idea if it was tumor growth or continued radiation damage. Based on an MRI he had two weeks ago, it is delayed effect radiation damage. He is now back under care with regular appointments.

I don't know what to say. This is hard, very hard. It wears me down and I think "there is no way I can continue doing this." Yet, Rawd gets up every day smiling. So I say a prayer, put on my "big girl" pants and try to live as courageously as he does. May god bless you and keep you on this journey.
---
---