ANNUAL NEUROSURGERY CHARITY SOFTBALL TOURNAMENT
---
Posted on: 06/20/2008
ANNUAL NEUROSURGERY CHARITY SOFTBALL TOURNAMENT
"Playing to Win Against Pediatric Brain Tumors"
Neurosurgeons from 16 of the nation's top medical institutions battled it out June 7th in Central Park at the 5th Annual Neurosurgery Charity Softball Tournament (www.ColumbiaKidsNeuro.org).
The event was hosted by
Columbia University and benefited pediatric brain tumor research.
This year's competing teams included the Departments of Neurosurgery from
Columbia, Emory, Harvard, Duke, Yale, Thomas Jefferson, Cornell, NYU, University of Pennsylvania, Albert Einstein, Mt. Sinai, Pittsburgh, Utah, Northwestern, and Dartmouth. Harvard claimed their first championship by defeating Emory 4-2 in the Finals. Utah put on a strong showing to finish in third place.
The Annual Neurosurgery Charity Softball Tournament has rapidly evolved into a national competition.
The first two championships were claimed by
Columbia University in 2004 and 2005, while The University of Pennsylvania repeated their title runs in 2006 and 2007.
The championship trophy, named "The J. Lawrence Pool Memorial Trophy" in honor of the former
Columbia chairman, will be housed at Brigham and Women's Hospital for the upcoming year.
For the fifth consecutive year, George M. Steinbrenner, III and the New York Yankees have sponsored the tournament. This year, Brandon Jacobs of the Superbowl Champion New York Giants and Jeremy Schaap of ESPN threw out the honorary first pitches, while rock star Julian Casablancas of the "Strokes" made a guest appearance.
Supported by Mayor Michael Bloomberg, this date has been declared "Neurosurgery Charity Softball Tournament Day" in the City of
New York. The planning has already begun for the games to continue next year in June 2009 at the 6th Annual Neurosurgery Charity Softball Tournament, with the potential for an expanded field to include 24 teams from across the country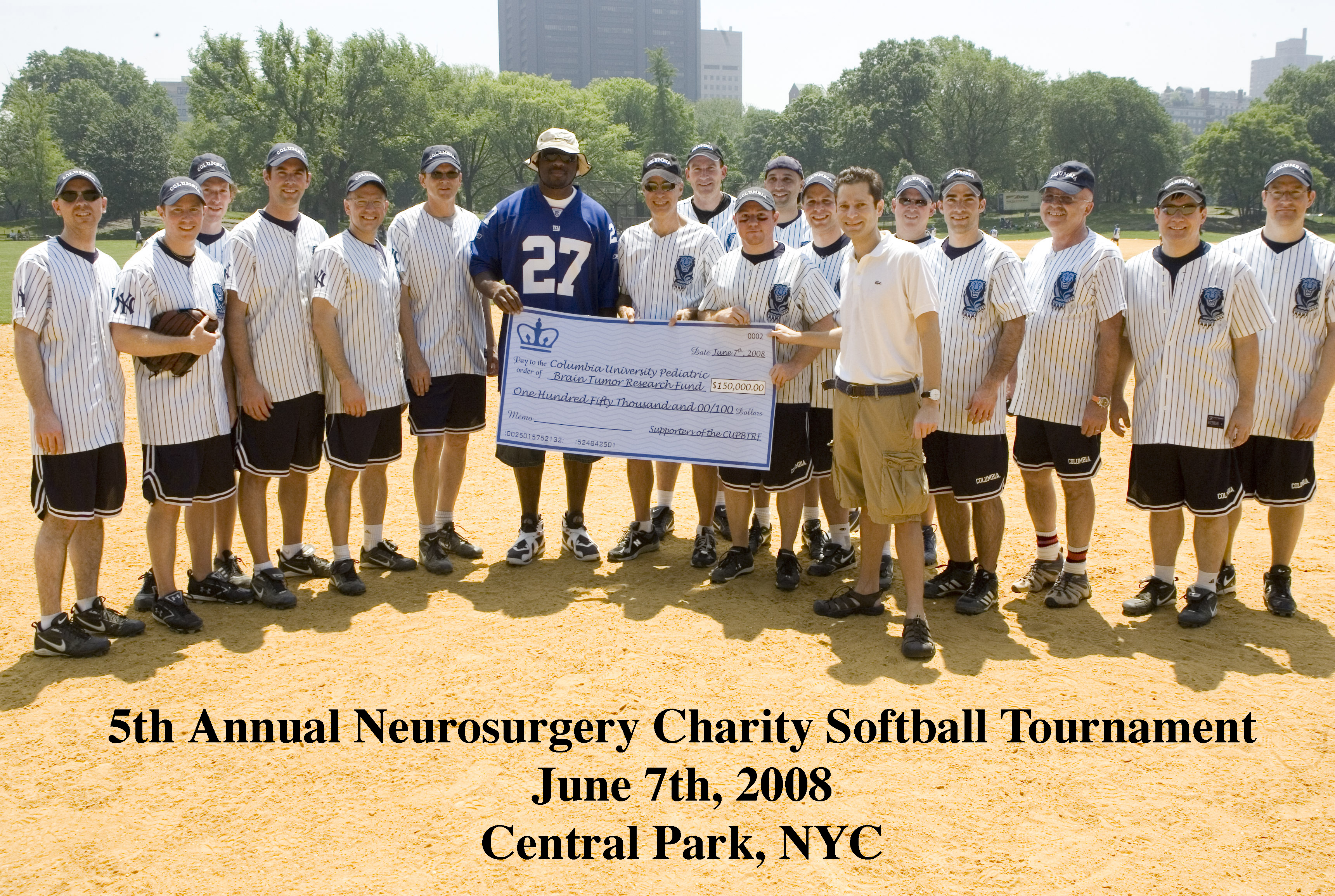 Photo legend: Columbia University neurosurgeons, along with Brandon Jacobs of the New York Giants and Jeremy Schaap of ESPN, holding a check for the amount raised since the tournament's inception in 2004.
---
Click HERE to return to brain tumor news headlines
---