ANNUAL NEUROSURGERY CHARITY SOFTBALL TOURNAMENT
---
Posted on: 06/25/2007
ANNUAL NEUROSURGERY CHARITY SOFTBALL TOURNAMENT
Richard C. E. Anderson, M.D.
The 4th Annual Neurosurgery Charity Softball Tournament was played on June 9th at the Great Lawn of Central Park in New York City. The event was hosted by Columbia University and sponsored by George Steinbrenner and The New York Yankees, with all proceeds benefiting pediatric brain tumor research. This year's competing teams included the Departments of Neurosurgery from twelve of the nation's top medical centers - Columbia, Emory, Harvard, Duke, Yale, Thomas Jefferson, Johns Hopkins, Cornell, NYU, University of Pennsylvania, Albert Einstein, and Mt. Sinai. The University of Pennsylvania came from behind to repeat as champions by scoring 4 runs in the bottom on the last inning to defeat Columbia 9-8 in the Finals. Mt. Sinai once again put on a strong showing and finished in third place. The championship trophy, named "The J. Lawrence Pool Memorial Trophy" in honor of the former Columbia chairman, will be housed at The University of Pennsylvania for another year.
Organized by Ricardo J. Komotar, M.D., a neurosurgery resident at Columbia University, this tournament has already raised over $100,000 for Pediatric Brain Tumor Research (www.KidsBrainResearch.org). Supported by Mayor Michael Bloomberg, this date has been declared "Neurosurgery Charity Softball Tournament Day" in the City of New York. The planning has already begun for the games to continue next year on June 7, 2008 at the 5th Annual Neurosurgery Charity Softball Tournament, with an expanded field to include 16 teams from across the country.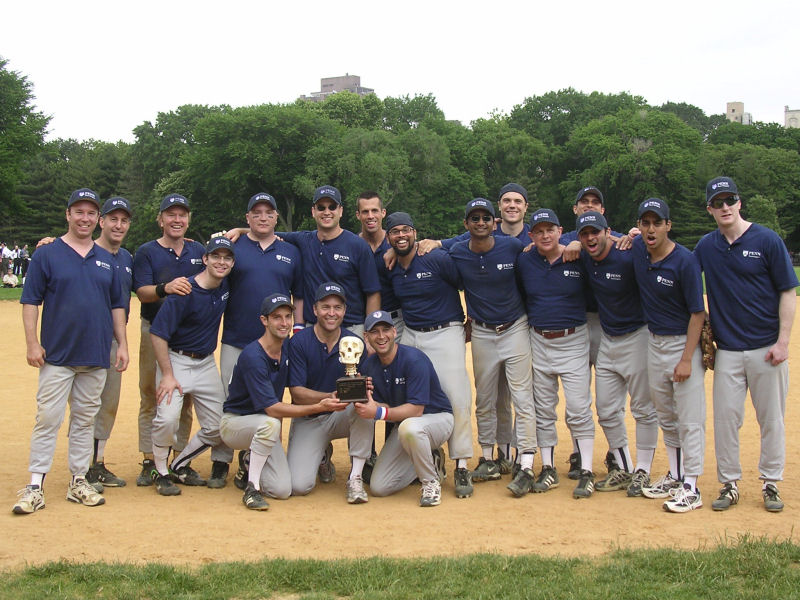 Photo Legend:
2008 Neurosurgery Charity Softball Tournament Champions – University of Pennsylvania: Bottom Row (left to right): Michael smith, M. Sean Grady, Michael Stiefel Top Row (left to right): Phillip Storm, Paul Marcotte, Don O'Rourke, Joel Bauman, Greg Heuer, Eric Jackson, Nathan Ranalli, Shabbar Danish, Suresh Magge, Brad Lega, Kevin Judy, Neil Malhotra (behind), Kareem Zaghloul, Deb Bhowmick, James Schuster
---
Click HERE to return to brain tumor news headlines
---