Lakefest Fundraiser June 25th, Dallas/ Ft Worth!
---
Posted on: 06/10/2011
Legacy Brain Foundation, a non-profit organization in the Dallas-Fort Worth area, is partnering with Silver Lake Marina, Scott's Landing Marina, and 96.3 KSCS radio to present a day of live music, fireworks, food, and fun on June 25th at beautiful Lake Grapevine. Lakefest is an annual event in North Dallas, and has always provided outstanding live entertainment and raised thousands of dollars for local charities. This year, the organizers of Lakefest chose the Legacy Brain Foundation as their charitable organization because of the foundation's commitment to providing aid to brain and spinal cord tumor patients throughout Texas.
The Legacy Brain Foundation is one of the few organizations that provides direct financial support to the patients suffering from primary or metastatic brain tumors, one of the most common causes of cancer death in the United States. Lakefest 2011 is proud to present Jack Ingram, a rising star in the new country music scene, as well as Johnny Cooper, Granger Smith, and Southern Drive. Along with the outdoor concert, there will be plenty of food, drinks, vendors, games for the kids, and an incredible display of watercraft. KSCS 96.3 will be broadcasting live from the event and will host a VIP party boat before the concert, with live music, food and beverages. KSCS will be giving their listeners the chance to win 60 tickets to the VIP Party Boat, a $150 value. The festivities begin at 4:45 pm June 25th and will proceed long into the evening! General admission is only $15 in advance, $20 at the door, and VIP admission (which includes VIP parking) is $150. Log onto www.lakefesttx.com to get your tickets today and listen to KSCS for further details and your chance to win a VIP Party Boat pass. To learn more about the Legacy Brain Foundation or to help someone you know with a brain or spinal cord tumor, go to www.legacybrainfoundation.org."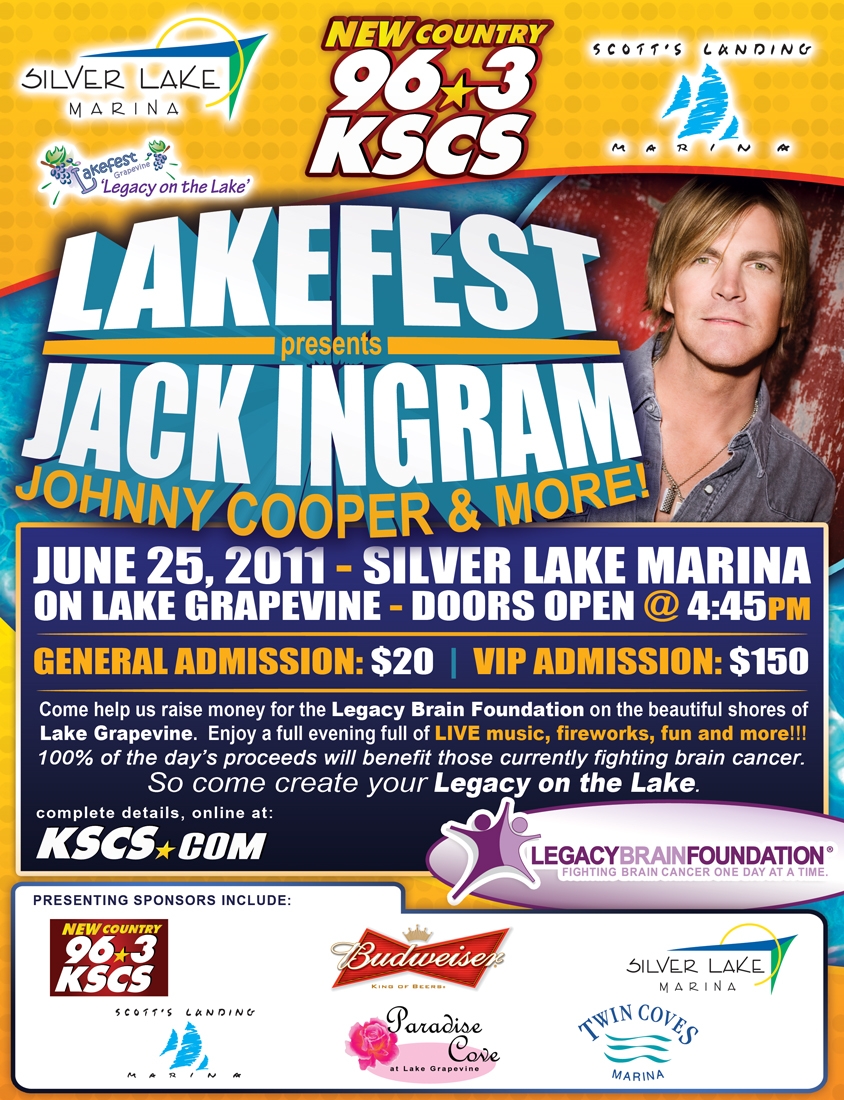 ---
Click HERE to return to brain tumor news headlines
---