The information presented below is the opinion of Matthew F. and does not necessarily reflect the opinion of the Musella Foundation!
---
Surviving a Glioblastoma (gbm) Brain Tumor Diagnosis
* BIO *
Matthew Fullerton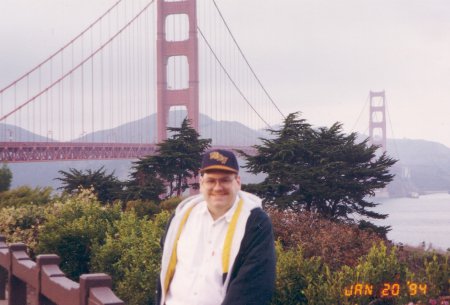 In September 1987, a senior in high school, Matthew, 17, began experiencing headaches with nausea upon waking. Diagnosed with a glioblastoma multiforme (gbm), in the right frontal lobe, a radiologist gave Matthew six months to live. The tumor was encapsulated, well circumscribed, about the size of a man's closed fist.

After all gross tumor was surgically debulked, Matthew received the maximum dosage of standard "beam" radiation. Matthew entered a SWOG clinical trial for intra-arterial cisplatin. The procedure had to be aborted due to risk of stroke after a capillary was nicked just mm's away from the tumor.

Matthew's neurosurgeon, who focused on providing Matthew with both quantity & quality of life, then made arrangements to enroll Matthew in a brachytherapy clinical trial at UCSF. In Jan. 1988, Dr. Michael Edwards & Dr. Michael Prados, guided the placement of the I-125 radioactive seed implants. In March 1989, it was necessary to return to UCSF for a craniotomy to debulk the radio-necrosis caused by the brachytherapy. This had a positive flip side, as the UCSF docs had seen better survival results in the trial with patients who had required necrosis removal.

Matthew enjoyed a long period of remission, during which time he graduated from college. A recurrence was detected in a routine follow-up mri in Nov. 1993. Matthew returned to UCSF, where Drs. Michael McDermott & Prados repeated the brachytherapy, pushing Matthew's accumulated dosage of radiation to 170 Gy (17,000 rads).

In the summer of '94, Matthew began having complex partial seizures. After several AED "cocktails" failed to control the seizures, Matthew explored surgery as an option. In November '98 Matthew underwent a pair of craniotomies at the Univ. of Minnesota, under the care of Dr. Thaddeus Walczak, to retract his seizures. Testing revealed his right temporal lobe had suffered radiation damage and was the focal point of the seizures. The faulty temporal lobe was removed and Matthew was seizure free for nearly three years before his seizures returned. This time, however, the seizures were less debilitating than prior to the surgery.

In September 2002, Matthew celebrated fifteen years of survival. His seizures are now controlled with a hefty dosage of Dilantin & Neurontin. Matthew suffers from chronic double vision & difficulties with his gait-the swift winds of Kansas have blown him off his feet more than once!
---