---
Lessons Learned Using a High-definition Three-dimensional Exoscope for Brain Tumor Surgery
Kevin Kwan, M.D., Julia R Schneider, B.S., Victor Du, M.D., Lukas Falting, B.S., Shamik Chakraborty, M.D., David J. Langer, M.D. John A. Boockvar M.D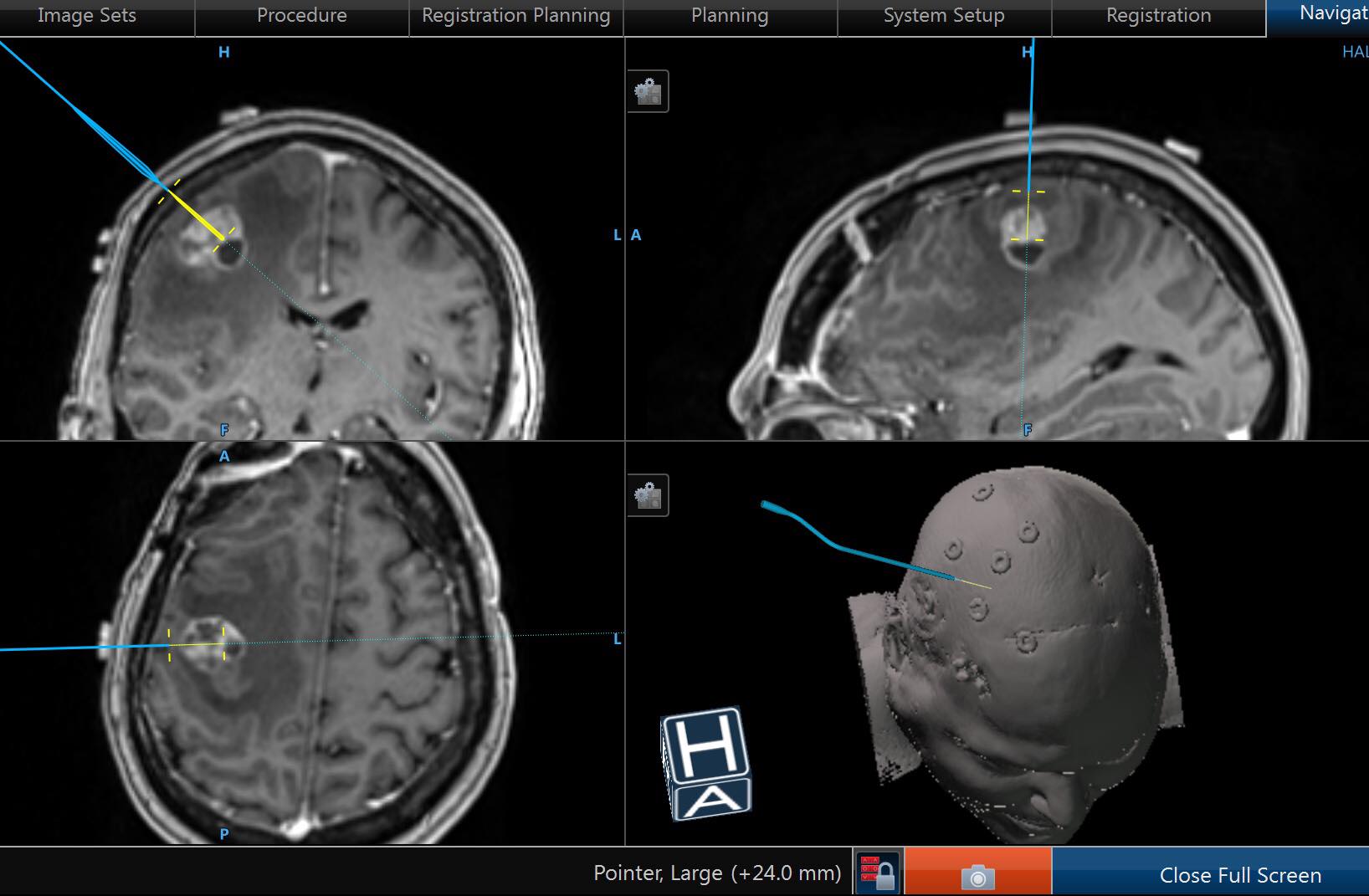 Introduction:

The operative microscope has significantly advanced modern neurosurgical brain tumor surgery but continues to be limited by high costs, suboptimal optics, poor ergonomics, and difficulties with maneuverability. We believe the novel 4K-HD 3D exoscope (EX), may improve brain tumor surgery by augmenting the surgical corridor through advancements in illumination, ergonomics, magnification, and depth of field and has the potential to be utilized in neurosurgical education and training.
Results:

As shown in the above video of a surgery in a woman with a brain metastasis, the low profile EX allows for excellent operative corridors and instrument maneuverability during brain tumor surgery. The large monitor also results in an immersive surgical experience, and gives team members the same 3-dimensional vision as the operator.
Conclusion:

This novel 3-D 4K-HD EX system possesses improved optics, ergonomics, and maneuverability, with the EX's shared surgical view having obvious educational and workflow advantages.

Further clinical research is needed to examine the clinical effectiveness of the EX system for different surgical approaches through quantitative methodology.
---
John A. Boockvar, MD
Vice Chair, Department of Neurosurgery
Director, Brain Tumor and Pituitary/Neuroendocrine Centers
Lenox Hill Hospital /Manhattan Eye, Ear and Throat Hospital
Investigator, Brain Tumor Laboratory
Feinstein Institute for Medical Research
Professor of Neurosurgery and Otolaryngology
Zucker School of Medicine at Hofstra/Northwell

Office Address and contact information:
130 East 77th Street
3rd Floor
Black Hall Building
New York, NY 10075
Tel: (212) 434-3900, option 3
Fax: (212) 434-3899
Email: jboockvar@northwell.edu
http://www.lenoxhillhospital.org/neurosurgery
http://medicine.hofstra.edu/ https://www.northwell.edu/find-care/locations/lenox-hill-hospital

Administrative Manager: Oleg Rivkin, PA-C: ORivkin@northwell.edu
Practice Business Manager: Marcia Barnaby: mbarnaby@northwell.edu
Practice Nurse Practitioners: Sherese Fralin, NP: sfralin@northwell.edu
Ashley Ray, NP: aray1@northwell.edu
Clinical Trials Office: Tamika Wong: twong4@northwell.edu
Brain Tumor Laboratory and Biotech Center: Marc Symons: msymons@northwell.edu
---
---